So, I may have gotten a little distracted making something new – a Fallout 4 laser pistol…
But now that's out of the way Gorehowl is nearly complete. After a lot of testing with different sealers I used epoxy resin to give the blade a good edge, while the rest was covered in gesso. The whole thing was painted with dry brushing, building up the colours starting from dark chocolate brown to iridescent silver for the edges.A few others colours such as a dark patina and bronze were lightly added between layers to break up the silver. This is a method I picked up from a video by punished props and is now my preferred method of painting metal. The weathering was built up starting with a watered down light brown to a dark brown: this helped to break up the metal.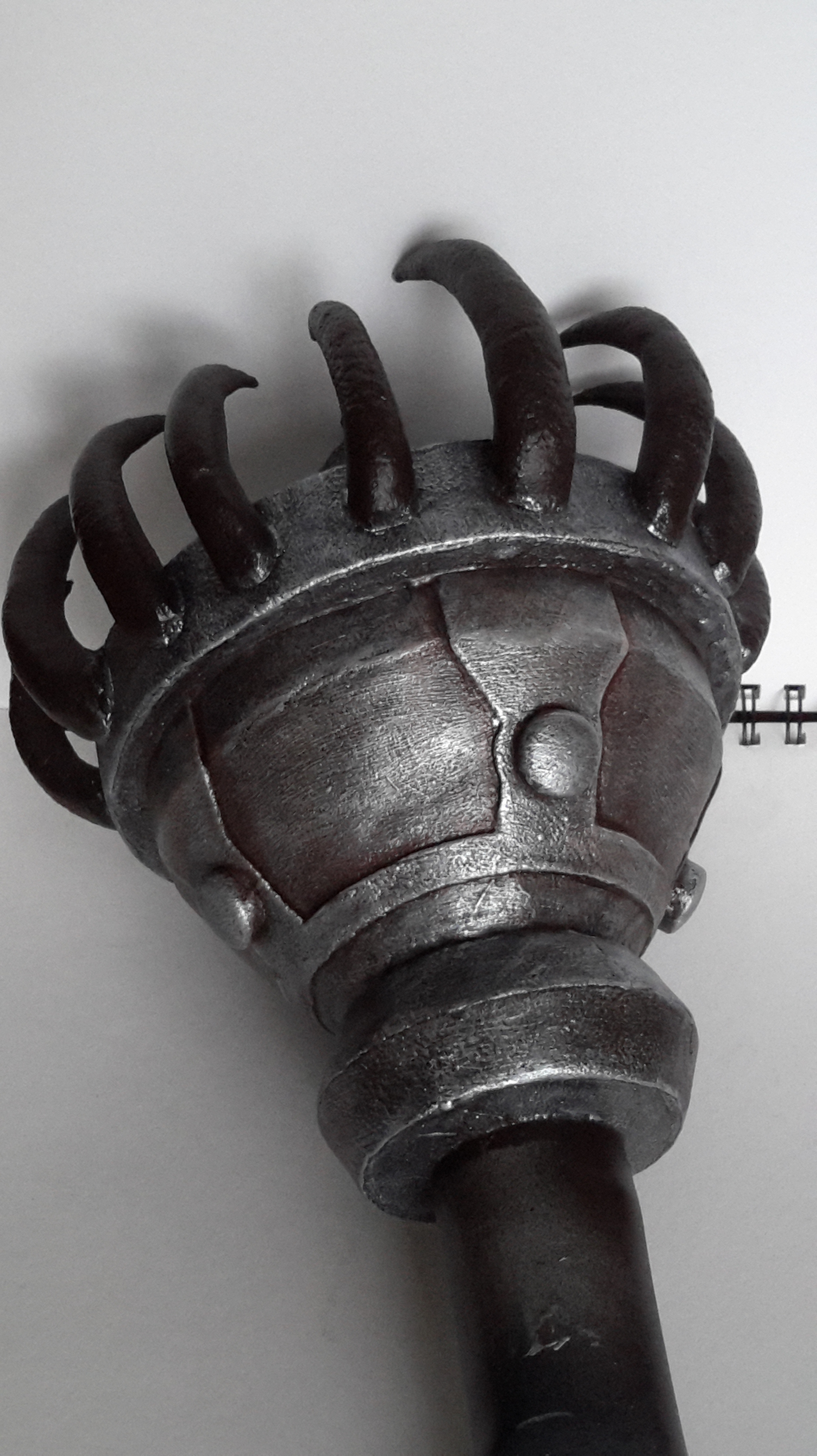 The skull smasher on the end with resin rivets
The skull was done in a lighter bronze colouring while the inlays were a little darker/ browner (is that a word) bronze.
The image above shows the fully assembled axe; the head is detachable to make it easier to move around. I was originally going to do the tusks on the skull smasher a bone colour but after base coating them I noticed they had a more metal texture to them so I tried bronze. This was ok but I'll need to have a play if I want to make some 'realistic looking tusks.
The handle was covered in a dark chocolate coloured leatherette using hot gule to secure one edge it was then twisted to stop it being flat and then sown with thick black thread. For the second layer I used some pretty heavy black cotton fabric with a nice weave to give the handle grip. This was torn into several strips , attacked with scissors and sand paper to give it some wear. It was then roughly wrapped around handle, pulled tight and then knotted.
To finish it I just need to give the fabric some weathering (which I probably should have done before I attached it) and test some swirls on the bronze inlays on the axe head.
Final pictures should be up tomorrow.